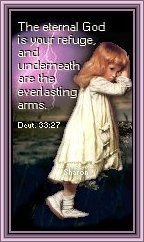 What Happened?

By: Veronica Wood
Today a little baby girl
arrived in Heaven,
her mind in a state of bewilderment.
One moment,
she was safe and warm in
her mother's womb.
The next, screaming silently
in agony as her tiny body
was tortured and torn.
"Mommy, Mommy,"she cried.
"Why is this happening to
me? Have I been bad,
to deserve this pain?"
Suddenly, all pain stopped;
the little girl had died
and was tossed aside.
The little baby girl opened her eyes.
Standing before
her was a man with outstretched
arms, waiting
for her to come to Him. She ran to Him,
and as He picked her up, asked Him:
"What happened, why do
you have holes in
your hands?"
The man only smiled tenderly at her.
He began to carry her around,
showing her things in this
wonderful place she
had never seen before.
Then He spoke. "My name is
Jesus, He said,
and since you do not have a name,
I will give you one.
Your name will be Lisa. See
all these children here?
They were like you, coming
here before they had
names.
So, I chose names for all of them.
After Lisa thanked Jesus for her name,
she again asked Him: "what
happened, why do
you have holes in your hands?
" Again, Jesus
only smiled.
Lisa had many questions, and as they
continued to walk around,
she began to ask them.
" Jesus, what happened to
me? Did I do something wrong
for my mommy
to do what she did to me?
I never even got to
see her face. Was my mommy pretty?
And, Jesus, What happened, why
do you
have holes in your hands?"
Jesus just
smiled sadly at her as he put
her down to play.
Jesus sat watching His
children playing.
" How beautiful they are,
He thought, all so
different, unique, and oh,
so innocent!"
Lisa glanced at Jesus sitting there,
looking so sad. She stopped
playing, went over to Him
and asked,
" Why so you look so sad?
Is it because
of the holes in your hands?"
Jesus smiled and answered:
"I will explain
that to you in a way I know you
will understand.
A long time ago, I went
through a lot of
indescribable, unbearable pain.
My body was
beaten and tortured as I cried
and screamed.
I knew I had done nothing
to deserve this pain,
just as you had dond
nothing to deserve the
pain you had endured.
I took the stripes on my
back, and I was
nailed to a tree. Long spikes
were driven through my feet,
and yes, through my hands.
I suffered all
this so you would never have
to feel any kind
of pain ever again. More important,
I did
this with Lisa on my mind, because
I love you so very much."
Lisa wrapped her little arms around

Jesus' neck and hugged Him.

She looked up at Him with tears

in her eyes and said,"I love

you very much,

Jesus, and I thank you for

helping me to

understand, that I am the

reason, for the

holes...in your hands."